Hypotheses and observations regarding environmental risk factors for FA summarised from a report by the NAS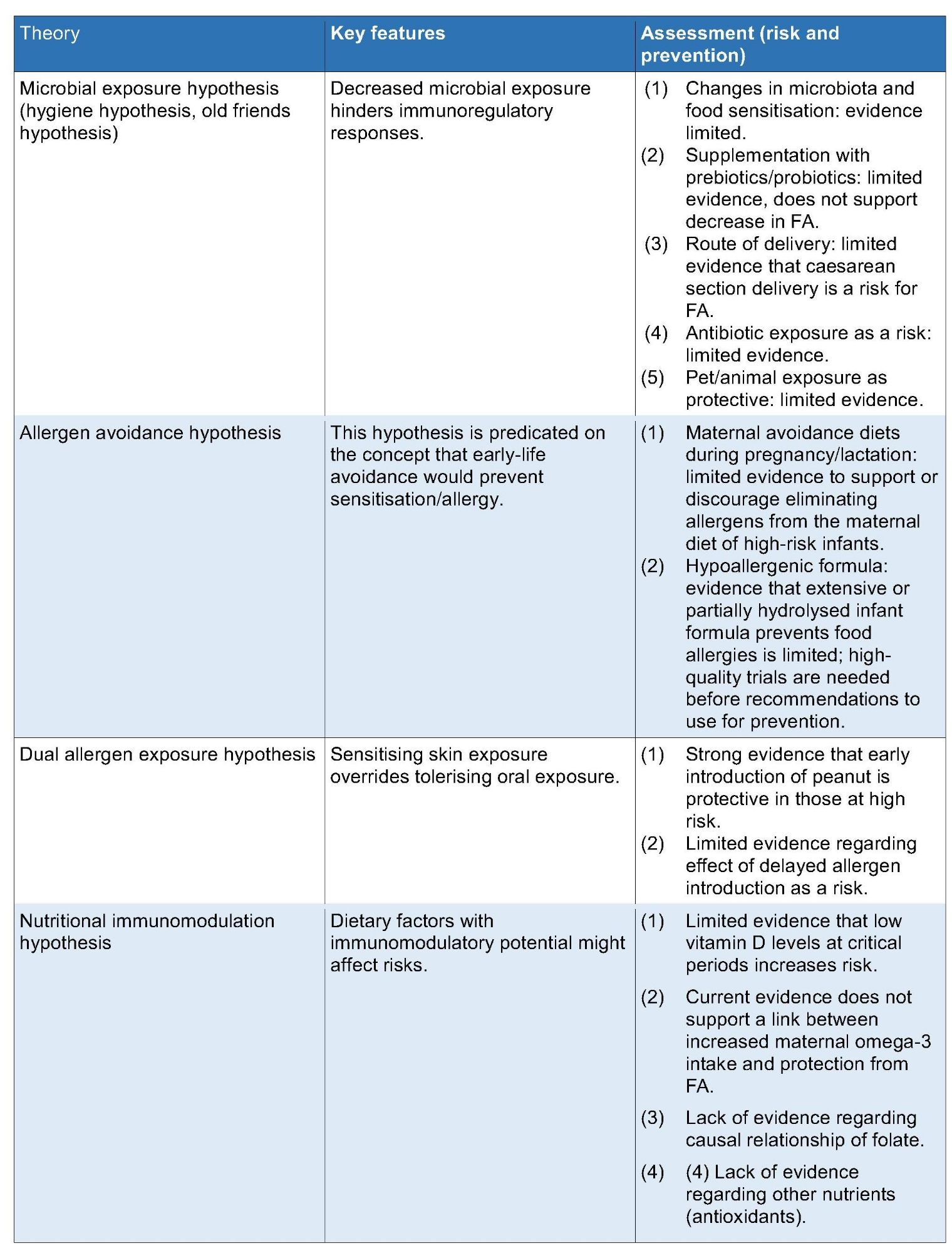 PATH OF FOOD ALLERGY
The natural path of FA in childhood has recently been reviewed.19
Some allergies have a high rate of resolution in childhood, such as milk (>50% by age 5-10 years), egg (approximately 50% by ages two to nine years), wheat (50% by age seven years), and soy (45% by age six years), with continued resolution into adolescence. Other food allergies persist or have low rates of childhood resolution: peanut allergy (approximately 20% by age four years), tree nut allergy (approximately 10%). Allergy to seeds, fish, and shellfish are also considered to be more persistent but studies are lacking to define the actual course.19
ADDITIONAL PREVENTION STRATEGIES
Additional potential prevention strategies include ensuring vitamin D sufficiency, which could be a simple intervention. The Australian HealthNuts study61 found that infants with vitamin D deficiency had an increased risk of peanut (adjusted OR, 11.51; 95% CI, 2.01-65.79) and egg (adjusted OR, 3.79; 95% CI, 1.19-12.08) allergy, but equally there are other conflicting studies.48 A clinical trial is presently underway.62
The use of probiotics as a prevention strategy requires further investigation. Berni Canani et al63 investigated the use of a hypoallergenic infant formula with or without addition of Lactobacillus rhamnosus in infants with cow's milk allergy (n=220; median age, five months). They noticed a risk reduction in the infants receiving probiotics for having additional atopic disease (eczema, asthma, rhino conjunctivitis and other food allergies), with the number of children needed to treat to prevent the occurrence of at least one additional allergic manifestation over a period of 36 months, estimated at four (95% CI, 3-10).
There are possibly potential preventative influences in our diet that require further investigation.3This also poses the question that there may be potential for specific infant formulas to provide allergy protection.3,64
There is also insufficient information regarding whether breastfeeding prevents or delays FA, although a signal for prevention has not been identified.3,53,65,66
FOR REFERENCES CLICK HERE...