SEASONAL PRODUCE: EXPLORING BRITAIN'S FEBRUARY FAVOURITES
Posted on
WHAT DOES IT MEAN TO EAT SEASONALLY AND WHY IS IT IMPORTANT?
Eating locally and seasonally is beneficial for a number of reasons:
Produce grown in season tends to be tastier due to growing in its natural environment under natural conditions.

Some research suggests produce grown in season is more nutrient-rich too.

It also tends to be cheaper hence more accessible.

it is better for the environment as it is less likely to be shipped over from other countries.

It is less likely to be over-packaged, due to having less distance to cover.
Regarding the last point, it is important to note that this applies for produce grown out of its natural season in the UK too – for example, even if you are able to find strawberries out of season locally, they might have been grown in intensive artificial conditions, which use up a lot of resources. So, it is best to stick to locally grown strawberries in June, when they are in season.
(Photo: https://chezlerevefrancais.com/roasted-winter-vegetables/ )
If this explanation of seasonality is a bit confusing, the Department for Environment, Food and Rural Affairs (DEFRA) helpfully propose two sub-definitions:
Produced in season (global seasonality): food that is outdoor grown or produced during the natural growing/production period for the country or region where it is produced. It need not necessarily be consumed locally to where it is produced.

Produced and consumed in season (local seasonality): food that is produced and consumed in the same climatic zone without high-energy use for climate modification or storage.
HOW DO WE MAINTAIN HEALTH WHEN EATING SEASONALLY?
Some people would rightly say that only eating fruit and vegetables that are in season might limit the countless health benefits that can be accessed from eating a variety of tropical and out-of-season produce. After all, regardless of where and when it is grown, the health benefits of fresh produce are undeniable, year-round.
Nevertheless, we know that Brits still do not consume nearly as much fruit and vegetables as they ought to, and this is linked to wider, systemic issues of affordability, accessibility and availability, as well as the tricky behavioural aspects of convincing children to eat sorrowful-looking celeriac grown in Somerset, when they would much rather be eating sticky, sweet tasting cherries from Chile.
Is it really a good idea to limit produce eaten by season when globalisation has facilitated access to fruit and veg more than ever before?
Luckily, there is a lot of exciting produce grown within season in the UK. If only more people were taught how to cook celeriac and swede, perhaps it would be more appealing. There are excellent initiatives headed by Riverford (veg box supplier) and VegPower, who share seasonal produce recipes, which are helping to reverse this disconnect.
Even then, if you miss eating soft berries in the winter like I often do, the solution is to pick gluts of berries in season and then freeze them to eat in the winter, with porridge, yoghurt and in smoothies. Alternatively, buy frozen mixed berries from the supermarket, as they are usually frozen at their ripest.
SO, WHAT IS IN SEASON IN THE UK IN FEBRUARY?
Does anyone else love winter vegetables? Root vegetables in particular are so hardy, whereas raspberries and strawberries seem to take on a sour disposition as soon as they come home from Tesco. Root vegetables are also creamy, hearty and wholesome, and can be eaten as a meal by themselves when cooked correctly – soups and stews galore!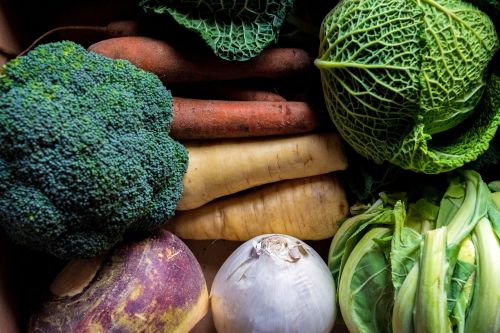 In season this month we have:
celeriac and swede

Brussels sprouts

cabbage and cauliflower

carrots parsnips

chicory and radicchio

Jerusalem artichoke

purple sprouting broccoli and Kale

leeks and turnips
(Photo by Nick Fewings on Unsplash)
You have just missed cavolo nero (a type of kale), radish, beetroot and salsify from January, but you might be able to catch the last dregs in the supermarket if you move quickly. Mushrooms, onions, pak choi, pulses and spring onions are actually in season year-round, so work to complement every dish from a wintery broccoli and stilton soup, or a sunny stir-fry with sugar snap peas and mange tout.
I have been making a resolve to pick up one or two seasonal vegetables I haven't cooked or tried before, and finding recipes for them before the next food shop. I'm really enjoying doing this, as it means I'm developing my cooking skills, as well as trying new produce in different ways.
February this year is particularly difficult as we all try to cope with this long winter lockdown, but with all those wonderful seasonal vegetables available, creating healthy dishes for mealtimes could benefit us in many ways.
Farihah Choudhury, ANutr
Public Health Nutritionist

Farihah is a Public Health Nutritionist with Hampshire County Council.
She is particularly interested in food policy, non-communicable diseases
as a result of changing food environments, sustainable diets
and food culture, and anthropology.
Twitter@: farihahchdhry
Instagram: easypeasysustainability
Website: easypeasysustainabilitynutrition.co.uk