EAT vs HEAT: HOW WILL THE ENERGY CRISIS AFFECT THE NATION'S DIET? by Beth Molly Bradshaw, A Nutr
Posted on
In January 2022, a million adults in the UK went an entire day without food as the cost of living rises. The rising cost of energy is one of the key concerns fuelling the current cost of living crisis. In this blog, I will explore how the rising cost of energy will impact on healthy eating in households across the country.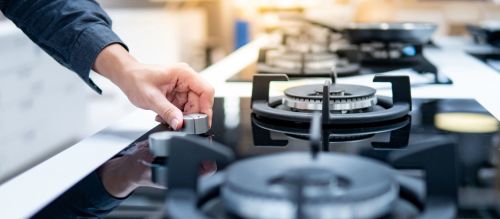 EAT vs HEAT
In April, electricity and gas bills for a typical household are set to go up by a staggering £693 a year for approximately 22 million customers, which is roughly a 54% increase. The increase is driven by a record rise in global gas prices over the last six months, with wholesale prices quadrupling in the last year.1
Data suggests that 62% of households experience higher energy bills and 16% have to cut back on the quality or quantity of food to afford essentials such as gas and electricity. In addition, 59% of households said they were worried that increased energy prices will mean they have less money to afford enough food for themselves or their family.2
The cost-of-living crisis is set to only get worse, with the British Retail Consortium warning prices will continue to rise and at a faster rate than last year. Plus, there are fears the Ukraine crisis could lead to further increases in the cost of living from October. New data from the Citizens Advice suggests that one in four adults will be unable to afford October's predicted energy bill increases.3
And to make the situation even more concerning, all of this is on top of the financial hardship experienced by many during the COVID-19 pandemic.
But how will the upcoming rise in energy costs affect households' ability to eat healthily?
FUELLING FOOD INSECURITY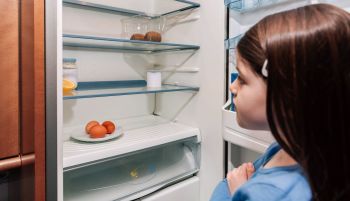 With more household income having to be allocated to electricity and gas bills, this ultimately leads to less money for other basic goods – including food – and will ultimately drive an increase in food insecurity.
This can translate into two different situations: firstly, this may affect the quantity of food purchased and, secondly, it may result in households having to choose cheaper foods to feed the family.
Energy-dense, nutrient-poor food available in supermarkets is often cheaper than healthy nutritious food and, therefore, may be an option for families with a limited grocery budget.4 On top of that, food prices are also set to rise. The table below presents the CPI data charting take-home retail prices for commonly purchased food and drink items and shows that prices have risen 4.3% in the 12 months to January 2022. Prices rose across all the food categories monitored, with oils and fats seeing the largest rise of 15.9%. Other food categories continue to rise with fruits now 6.9% higher; vegetables 4.5% higher; milk, cheese and eggs 5.7% higher and meat 3.9% higher.5

Table 1: Food Foundation (2022) The average percentage change in CPI retail food price indices for all food categories compared to January 2021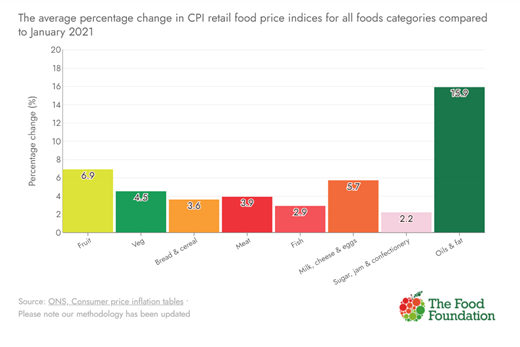 This ultimately means food insecure households may have no choice but to choose less healthy food and drink and less fruit and vegetables due to their rising cost.
Dietary quality, we know, can contribute to a range of non-communicable diseases including obesity, type 2 diabetes and more.6 This will ultimately reinforce health inequalities that are already so prevalent in our most deprived communities.
COOKING WITH NO GAS
Households may also start to consider modes of food preparation and opting for meals that use up less energy. According to uSwitch, a microwave is the most energy-efficient appliance, followed by a hob and lastly an oven.7
Estimates from Energy Saving Trust suggest that five minutes' usage of a typical microwave (800W, category E) will use about 0.09kWh of electricity, costing around 1.3p. In comparison, the typical gas consumption each time a gas hob is used is about 0.9kWh, costing around 3.4p.8 These prices are based on the old energy price cap and will increase dramatically after April 2022.
With microwaves being the most appealing appliance in terms of energy usage and associated costs, households may start to avoid using ovens and hobs.
Just this month The Guardian reported some food bank users are declining items such as potatoes and other root vegetables as they simply cannot afford the energy to boil them, as a result of the soaring cost of electricity.9
Some types of meals require little energy to prepare such as instant foods and ready meals that only require a couple of minutes in the microwave, or instant foods that are prepared simply by adding hot water. However, their nutritional value is often limited and they often contain few fruit and vegetables, and can also be high in fat, sugar and or salt.10

Of course, not all food cooked in the microwave is unhealthy by any means, but the energy crisis may mean that home cooked meals from scratch may be simply off the cards, due to the cost of the energy required on top of the cost of the ingredients, not to mention the time to prepare and convenience.
A CALL TO ACTION
Households across the country were already struggling to put food on the table before the unprecedented rise in energy bills was announced. Households were struggling before the COVID-19 pandemic arrived. Priorities for each household will continue to change; and the healthfulness of the foods served at mealtimes will undoubtedly be put to the back of the queue.
Recently, Money Saving Expert, Martin Lewis, tweeted that he was "out of tools" to help people save money in the face of rising energy bills: "I need to say, as the Money Saving Expert who's been known for this, I am out of tools to help people now. I've been the Money Saving Expert since 2000… I've been through the financial crash; I've been through Covid. This is the worst, where we are right now…I'm reading messages from people saying money prioritisation used to be, 'do I go to the hairdressers, or do I go to the pub?' Now it's about, I'm prioritising feeding my children over feeding myself."
This is not just a case of money management. The situation needs urgent political intervention. The Government recently published its Levelling Up White Paper, which seeks to spread opportunity more equally across the UK. Allowing the energy crisis to hit our most deprived communities is in direct conflict with this agenda.
Without government intervention, the consequences will be catastrophic, and it will be our nation's health that will suffer. It is time for the Government to step in and stop the inevitable question that many households will be facing in the coming months: "Shall we eat or heat?"
Beth Molly Bradshaw, ANutr
Food Active, Health Equalities Group

Beth is a Project Manager and Registered Associate Nutritionist, with a passion for the wider determinants of health and campaigning for an environment that is more conducive to healthy lifestyles and behaviours. Beth has worked at Food Active, a healthy weight charity since 2017 and volunteered for a further 18 months.
Twitter: @BMBradshaw95
LinkedIn: @BethBradshaw1995
Email: [email protected]

References:
Ofgem (2022). Price cap to increase by £693 from April [online] .Available at: https://www.ofgem.gov.uk/publications/price-cap-increase-ps693-april [Accessed: 18/03/2022]
Food Foundation (2022). New data shows food insecurity major challenge to levelling up agenda [online]. Available at: https://foodfoundation.org.uk/press-release/new-data-shows-food-insecurity-major-challenge-levelling-agenda [Accessed: 10/03/2022]
Citizens Advice (2022). More than 14 million unable to afford October's energy hikes [online]. Available at: https://www.citizensadvice.org.uk/about-us/about-us1/media/press-releases/more-than-14-million-unable-to-afford-octobers-energy-hikes/#:~:text=New%20research%20published%20today%20by,unable%20to%20afford%20their%20bill [Accessed: 21/03/2022]

Rao M, Afshin A, Singh G et al (2013). Do healthier foods and diet patterns cost more than less healthy options? A systematic review and meta-analysis BMJ Open. 3

Food Foundation (2022). Food Prices Tracking: February Update [online] Available at: https://foodfoundation.org.uk/news/food-prices-tracking-february-update [Accessed: 10/03/2022]
NCD Alliance (2021). Unhealthy diets and malnutrition [online]. Available at: https://ncdalliance.org/why-ncds/risk-factors-prevention/unhealthy-diets-and-malnutrition#:~:text=Unhealthy%20diets%20and%20resulting%20malnutrition%20are%20linked%20to%20several%20noncommunicable,to%20the%20action%20of%20insulin. [Accessed: 21/03/2022]
uSwitch (2021). Energy efficient cooking [online] Available at: https://www.uswitch.com/energy-efficiency/energy-efficient-cooking/ [Accessed: 21/03/2022]
Wandsworth Council (2021) Cooking up savings with crew energy [online]. Available at: https://wandsworth.gov.uk/news/2021-news/news-january-2021/cooking-up-savings-with-crew-energy/ [Accessed: 21/03/2022]
The Guardian (2022) Food bank users declining potatoes as cooking costs too high, says Iceland boss [online] Available at: https://www.theguardian.com/business/2022/mar/23/food-bank-users-declining-potatoes-as-cooking-costs-too-high-says-iceland-boss

[Accessed: 28/03/2022]

NHS (2020). What are processed foods? [online]. Available at: https://www.nhs.uk/live-well/eat-well/what-are-processed-foods/ [Accessed: 21/03/2022]