DIETITIANS AS NON-MEDICAL PRESCRIBERS by Simon Tapley, Specialist RD in IMD
Posted on
Non-medical prescribing (NMP) is now over 30 years old, with nurses being the first to take on the role. In 2016, dietitians were incorporated into the programme, giving us the opportunity to become non-medical prescribers. Currently, however, once a dietitian qualifies on an NMP course, they are limited to supplementary prescribing. Simon Tapley asks why this is the case…
Earlier this year, I enrolled on an NMP course through the University of Western England. This was a 40-credit masters level module with every 20 credit masters module being reported to require 200 hours of study. So, embarking on this course requires quite a commitment!
The structure of courses run by different universities around the country varies, but all the courses have one common theme: in order to qualify as a non-medical prescriber students must provide evidence that they meet the competencies laid out in the Royal Pharmaceutical Society framework for all prescribers. This amounts to 76 different competencies split into 10 different categories.
To demonstrate this learning, a minimum of 90 practice hours is expected, with each episode of practice logged and correlated to one or more specific competencies. In addition to this log, two separate essays, an OSCE and a numerical and a pharmacological exam are required to be completed and passed. Without a doubt, it is a lot of work and the decision to enroll on the course should not be taken lightly. However, with careful planning and dedication over the six -to-seven-month course, it is manageable and, hopefully, well worth it, not only for personal and service development but also, collectively, for the advancement of our dietetic profession.
THE LIMITATIONS OF SUPPLEMENTARY PRESCRIBING
NMP within dietetics is currently limited to supplementary prescribing. This requires a clinical management plan agreed and signed off by a doctor. Each patient needs this paperwork for every drug a supplementary prescribing dietitian prescribes and this will need updating for any change in management not stipulated in the plan. When most drugs are prescribed once and then put on repeat prescriptions by GP practices it significantly limits the scope of a supplementary prescriber.
I work as a Specialist Inherited Metabolic Disorders (IMD) Dietitian and often drugs initially prescribed in secondary care are continued by GP practices in the community funded by their budgets. Having to create clinical management plans with consultant sign-off reduces the effectiveness of NMP, as one of the aims is to safely reduce consultant workload. Only dietitians and radiographers are limited to supplementary prescribing and I for one am unsure why this is.
Within IMD there are hospital-only drugs, which are usually high-cost specialist drugs that cannot be prescribed outside
secondary care. Drugs like sapropterin, used to treat phenylketonuria (PKU), require regular prescribing by doctors or non-medical prescribers. This vindicates the use of supplementary prescribers, as the clinical management plan is written once and does not often require changing. Continued prescriptions are made and consultant time is effectively saved.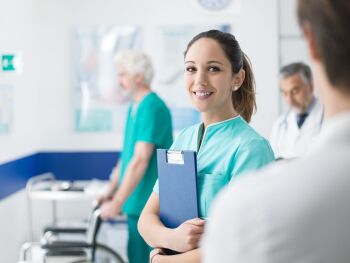 WHY HOLD US BACK?
For services, for patient groups and for individual practitioners to gain more from the qualification and the hard work that goes into the course, dietetic non-medical prescribers should be classed as independent prescribers in the same way as nurses, physios and pharmacists.
Whilst the NMP courses have undeniably expanded our roles as dietitians, there is a campaign running currently by the BDA to achieve this end and many dietitians across the country have been writing to MPs in an attempt to raise the issue.
This campaign is rooted in the belief that dietitians possess the expertise and knowledge to independently prescribe medications, particularly in IMD, where precise and timely intervention is critical.
For more information on this campaign and how to influence it, see https://www.bda.uk.com/news-campaigns/campaigns/independent-prescribing.html.