SEX, BABIES, MOTHERHOOD AND MENOPAUSE IN PKU by Suzanne Ford, RD
Posted on
The rare inherited metabolic disorder phenylketonuria (PKU) raises many challenges for both men and women alike, but the issues for female patients through pregnancy and later during the menopause need to be carefully considered. Suzanne Ford from the NSPKU discusses the complications and considers the guidelines.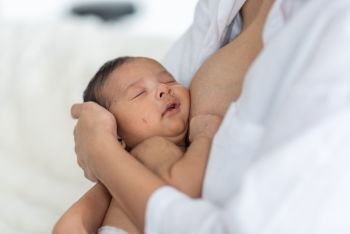 Pregnancy, giving birth, maternity services and support networks post-delivery have all changed radically for most women in the UK in the last 18 months, and the UK Government has been developing a Women's Health strategy to examine all theissues. Being a woman with PKU, however, raises many additional challenges.
PKU is an inherited metabolic disorder resulting from a defective enzyme (Phenylalanine Hydroxylase); those affected cannot metabolise the amino acid phenylalanine (Phe) and are treated with lifelong Phe restriction.1 This disorder impacts more heavily on the lives of female patients than male: female patients must strictly control their own fertility linked to their PKU control, due to the teratogenic nature of Phe.
Women with PKU wishing to plan a family need to be on a 'preconception' diet to achieve very tight metabolic control before stopping contraception.2 Even if young women with PKU do not want to start a family, they are counselled about controlling their fertility and taking all necessary steps to avoid unplanned pregnancies. The reason: to avoid Maternal PKU Syndrome in the offspring of women with PKU.1 Fear of unplanned pregnancies is very real for young women with PKU, as evidenced by responses to the NSPKU survey published in 2018.3
What is Maternal PKU Syndrome and what are the guidelines about preventing this?
Maternal PKU Syndrome is caused by high blood Phe levels during pregnancy, which can result in intrauterine growth retardation, facial dysmorphism, developmental delay, intellectual disabilities, microcephaly and congenital heart disease.4-11
The European Guidelines for the Diagnosis and Management of PKU1,2 state that treatment for maternal PKU should start preconception, and emphasise that significant effort should be undertaken to avoid any unplanned pregnancies. The complexities of managing nutrition in a 'standard' or non-PKU pregnancy are challenging enough. In a woman with PKU who is pregnant, Phe, natural protein, amino acids and energy intake are also monitored and adjusted, as well as all the standard nutrients of concern in pregnancy.
Mothers with PKU and breastfeeding
Dietitians who work with this group of women are now investing more time in encouraging breastfeeding when the mother is on the PKU diet after the mothers have delivered. Again, this is a challenge in terms of any guidelines or evidence base. How we guide on what natural protein (or Phe) tolerance is in lactation is likely to be based on the individual, yet frequent fasting Phe tests might be more challenging when looking after a newborn.
More work is needed!
Motherhood and PKU: raising your family whilst maintaining PKU control
NSPKU is helping adult patients with PKU to apply for Personal Independence Payments (PIP). Managing a therapy in a long-term condition, or needing support with eating, drinking or food preparation, are activities of daily living, which PIP payments are intended to support. Imagine having to self-administer a therapy that the NHS agrees takes 19 hours a week to do12 as well as raise a family and hold down a job, all of which impacts on PKU control.13 Women with PKU who have caring responsibilities and self-care needs, find that they cannot always manage all of this without support.3,14
PKU and the menopause
Women who were identified as having PKU on newborn screening, which was launched in 1969, are now reaching the menopause and they are asking their PKU clinics for help. However, there is no research in this area; we do not know if there is any influence of sex hormones on Phe, and secondly, if there is, how do we improve patient outcomes? (Increasing phytoestrogens in the diet might be difficult.) Yet, some of the symptoms of the menopause are similar (or overlapping) to that of high Phe, or under-treated PKU (brain fog, difficulty focusing or concentrating, sleep difficulties and fatigue).
Women and mothers with PKU should be supported throughout their lives. Close dietetic support is needed during preconception, the antenatal period, labour and birth and during the postnatal period. In the future, exploring menopause and PKU is an area worthy of research.
There is more work to be done in this interesting metabolic disorder.
Suzanne Ford, RD
Specialist Dietitian, North Bristol NHS Trust and Dietary Advisor to the
National Society for Phenylketonuria (NSPKU)
References
van Spronsen F et al (2017). Key European guidelines for the diagnosis and management of patients with phenylketonuria. Th Lancet Diabetes and Endocrinology Vol 5, Issue 9, September 2017, p 743-756

van Wegberg et al. The complete European Guidelines on Phenylketonuria: Diagnosis and Treatment. Orphanet Journal of Rare Diseases (2017) 12:162

Ford S et al. Reproductive experience of women living with phenylketonuria; Molecular Genetics and Metabolism Reports; Vol 17; 2018; 64-68; ISSN 2214-4269; https://doi.org/10.1016/j.ymgmr.2018.09.008

Lenke RR, Levy HL. Maternal phenylketonuria and hyperphenylalaninemia. An international survey of the outcome of untreated and treated pregnancies. N Engl J Med. 1980, 303: 1202-8

Lenke RR, Levy HL. Maternal phenylketonuria - results of dietary therapy. Am J Obstet Gynecol. 1982, Mar 1; 142: 548-53

Rouse B, Azen C, Koch R, Matalon R, Hanley W, de la Cruz F, Trefz F, Friedman E, Shifrin H. Maternal Phenylketonuria Collaborative Study (MPKUCS) offspring: facial anomalies, malformations, and early neurological sequelae. Am J Med Genet. 1997, Mar 3;69: 89-95

Koch R, Hanley W, Levy H, Matalon K, Matalon R, Rouse B, Trefz F, Güttler F, Azen C, Platt L, Waisbren S, Widaman K, Ning J, Friedman EG, de la Cruz F. The Maternal Phenylketonuria International Study: 1984-2002. Pediatrics. 2003 Dec; 112 (6 Pt 2): 1523-9

Adam S et al Giugliani R. JIEMS Special Issue Dedicated to the 13th ICIEM (Rio de Janeiro, Brazil, September 5-8, 2017). Journal of Inborn Errors of Metabolism and Screening. January 2018. doi:10.1177/2326409818 96248

Jovanovic A, Ferguson C, Smith MC et al. Outcomes of pregnancy in maternal phenylketonuria (PKU): the north-east experience; Archives of Disease in Childhood - Fetal and Neonatal Edition 2011; 96: Fa106-Fa107

Maillot F et al. Factors influencing outcomes in the offspring of mothers with phenylketonuria during pregnancy: the importance of variation in maternal blood phenylalanine. The American Journal of Clinical Nutrition, Volume 88, Issue 3, September 2008, p 700-705, https://doi.org/10.1093/ajcn/88.3.700

Lee PJ, Ridout D, Walter JH, Cockburn F. Maternal phenylketonuria: report from the United Kingdom Registry 1978-97. Arch Dis Child. 2005, 90: 143-6

MacDonald A, Smith T, de Silva S et al. The personal burden for caregivers of children with phenylketonuria: A cross-sectional study investigating time burden and costs in the UK; Molecular Genetics and Metabolism Reports 9 (2016) 1-5

Riva M et al. A cross-sectional study investigating time burden and costs in the UK; Molecular Ge Work activity and phenylalanine levels in a population of young adults with classic PKU. Med Lav 2017; 108, 2: 118-122; DOI: 10.23749/mdl.v108i2.5984

Ford S, O'Driscoll M, MacDonald A. Living with Phenylketonuria: Lessons from the PKU community. Mol Genet Metab Reports. 2018; 17 (August): 57-63. doi:10.1016/j.ymgmr.2018.10.002