The rise and rise of Veganuary and the vegan food market - is it as healthy as we think?
Posted on
By Farihah Choudhury
Current MSc Nutrition for Global Health student
Farihah is a Master's student interested in public health nutrition, particularly lifestyle disease including obesity as a product of changing food environments, food sustainability and food culture.
On my walk home in London, from Bloomsbury to Whitechapel, I traverse through Holborn, Farringdon, Barbican and City. The principal hubs for suits and commuters, looking for lunchtime meal deals or a quick pick-me-up between 8am and 6pm Monday to Friday, like clockwork.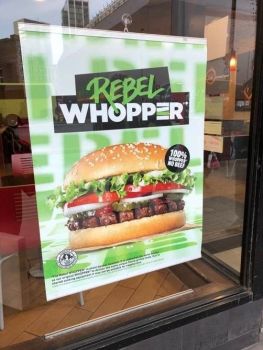 In January, as I have been trawling through the swathes of Prêt a Manger and Greggs branches, I have been in awe at the sheer volume of Veganuary marketing on billboards outside standard chain eateries and independents. It is fantastic to see. I describe my own diet as plant-based or flexitarian, which I maintain mainly for planetary health reasons, so, I have been fascinated to find so many novel food options for vegan and vegetarians across the board – from £1 Greggs vegan sausage rolls, to expensive set menus at Gauthier in Soho.
There is irrefutable evidence around the impact of animal agriculture on the environment in terms of carbon emissions, including methane and carbon dioxide, water use and land use, and many other metrics of planetary sustainability. Alongside this, there are the issues of animal welfare and, for some, dietary health.
In response to this increased awareness, Veganuary is having its most successful year yet – a challenge where people try to observe a vegan diet for a month, with a view to perhaps switching to a more plant-based diet, or even becoming vegan full stop. There were over 400,000 sign ups in 2020, compared with 250,000 last year in 2019.
FAST FOOD IS STILL FAST FOOD
Complementing this rise, I have seen first-hand an influx of vegan options in both fast food and supermarket outlets. However, might food marketeers be using a rising popularity of veganism as an excuse to push fast food marketing in a food environment that is already obesogenic? Vegan versions of fast food favourites are not necessarily any healthier than the animal product versions – fast food is still fast food, after all. But could marketeers be misleading the general public into thinking they are choosing a healthy option?
Furthermore, there is the argument that whilst increasing accessibility to vegan food options is a good thing, does it wrongly encourage consumption of cheap fast food? This in opposition to a wholefoods approach to veganism, which might be more of a privilege to be able to implement.
The Veganuary website displays a pie chart on its website which collates data from those who sign up, where they have stated their one main reason for partaking. 46% of participants selected 'health' as their reason, which represents the biggest category. If people are looking to follow a vegan diet for their health, whose responsibility is it to ensure people can make choices that would then palpably be beneficial for their health, rather than perpetuating the current obesogenic environment that is facilitated in the UK?
Despite TfL's junk food advertising ban coming into force a year ago in February 2019, we still see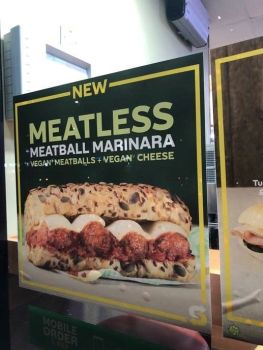 advertisements on the London Underground for Just Eat and Deliveroo, and conventional fast food outlets such as KFC, as well as vegan fast food innovations.
Going forward, as we observe evidence of the UK population shifting towards reducing animal consumption for various reasons, it is crucial that alongside the benefits of plant-based diets, we are also mindful of promoting and facilitating healthful options. This, as well as allowing people to enjoy more indulgent options that permit us to explore the wealth of plant-based options now at our fingertips, in the same way you might occasionally have a Big Mac or a Domino's Pizza!
Credit: Author's own photographs
Top: Rebel Whopper at Burger King; Aldgate
Right: Meatless Meatball Marinara at Subway, Whitechapel