COVID-19 STORE CUPBOARD IDEAS: The ultimate guide to getting the most out of the store cupboard during quarantine.
Posted on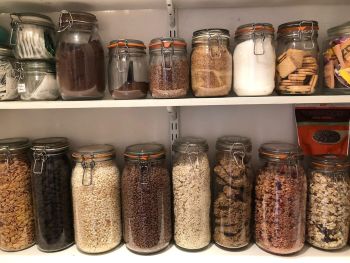 We have seen a huge amount of stockpiling going on in recent weeks as the lockdown became reality, but there's really no need, especially as a lot of us have a pretty well-stocked store cupboard already. Here, Tabitha Ward RD provides us with 10 top tips on how to get the most out of our cupboards and make what we've got already go that extra mile.
There are some things we always seem to have stocked up in our store cupboard, whether it's tinned tomatoes, baked beans, or that one mysterious can of the unknown without a label on (who knows what that could be, cat food maybe?). And with many of us self-isolating or struggling to get what we need from the supermarkets, now really is the perfect time to make use of what we've got and get creative in the kitchen. What's more, it's a challenging time for many of us, so making delicious healthy meals that can provide some comfort is really important.
CHECK WHAT'S ALREADY IN THE CUPBOARD
Before joining the social-distancing queue at the local supermarket, it's a good idea to work out what's already in the kitchen cupboards. Seems simple I know, but a lot of people panic buying may just need a reminder to take a look. That way, there's something to work with and it avoids buying more than is necessary. It also means getting through the current stock before it goes out of the date, cutting food waste and saving money.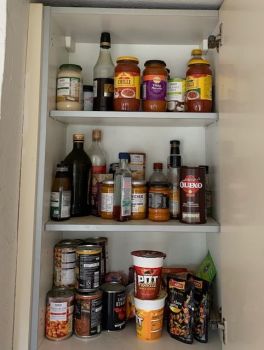 Once that's done, it's time to look through some recipes and make a shopping list of any additional items needed, rather than trying to remember what's in the cupboards at home. It's always good to remind people that tinned foods can be just as nutritious as fresh and tinned fruit and veg counts towards our five a day.
10 STORE CUPBOARD TOP TIPS TO PASS ON
Get experimental. If a recipe calls for something you don't have, switch it up with something you do have. You might just find it works better than the original!

Combine grains if you're low on something. This is great for the almost empty bags of pasta that aren't quite enough for a portion.

Opt for wholegrain carbs. They're cheap, filling and full of fibre. Dried noodles are great in a stir fry, or brown rice is delicious with a favourite curry. Even better, wholegrain varieties are much easier to find at the supermarkets as everyone stockpiled the white stuff (does nobody listen to dietitians?).

Use up beans and pulses. Dried or tinned, these are a great addition to soups and stews to make them more substantial. Not to mention they are a great source of plant-based protein, fibre and B vitamins.

If you're a lover of baked beans, try making your own with cannellini beans and tinned tomatoes. They will be much lower in salt and sugar than the ones you normally buy!

If your spices are past their best-before date, simply dry fry them over a low heat to revive them. Good as new and great for adding flavour to dishes (much cheaper than spice mixes too).

Get the kids involved. Now's the perfect time to get the kids interested in cooking and teaching them about healthy eating.

Organise your cupboards so they are easy to navigate. Keep similar items together so you know how much you've got and when you need to restock.

Use stock cubes. Chicken and vegetable are great and can be used to add extra flavour to any dish. Try making grains using stock instead of water, you'll be surprised how much flavour it packs in. If you can, opt for the low sodium variety.

Make the most of tinned fish. It's cheap, versatile and delicious. Try in pasta dishes or simply on toast with a squeeze of lemon. Its super nutrient dense too, with many varieties (such as mackerel and sardines) providing essential omega-3 fats.
And here's one extra tip for the pot: batch cook meals and freeze portions for a busy day (we know our Editor Emma Coates has been doing this!). You could even give a portion to an elderly neighbour, or somebody self-isolating who can't face cooking.
If you're stuck for ideas of what to make, there are plenty of websites to help. The Good Food website has a great selection of recipes and you can browse recipes by individual ingredients. They also suggest alternative ingredients on the website so you can mix and match.
Keep safe and well - Tabitha
Tabitha Ward RD
Specialist Bariatric Dietitian and Freelance Food Writer
The Hospital Group and Cedar Communications
Tabitha is a Registered Dietitian working in Weight Management and is also a food writer for
Tesco Magazine. She has also had articles published in Men's Health, and Dietetics Today.
Tabitha has recently returned from a seven-month trip around India and Nepal,
during which she spent time with a dietitian in a local hospital.
Instagram: @tabsward95