ARE SUPERMARKETS BAD FOR OUR HEALTH?
Posted on
We all know that the recent panic buying in the supermarkets impacts on vulnerable people and key workers and has caused stress and anxiety in this unprecedented crisis. But, pandemic aside, are supermarkets generally bad for us? asks Beth Bradshaw.

Supermarkets - they are a store cupboard essential; the bread and butter to our everyday lives; the meat to our two veg...
Supermarkets and grocery stores are an essential part of our day-to-day life, whether it be 'the big shop' in our local superstore or picking up a loaf of bread at the local metro shop. The average UK household spends over £3,000 in these retailers every year.1 So, ultimately, supermarkets are good for our health, right?
But, not according to the UK Government, who have highlighted supermarkets as a key battle ground in the second edition of their childhood obesity strategy.2 This came after a 12-week consultation, which ran from January to April 2019,3on restricting promotions of less healthy food and drink by price and place.
And these concerns are not based on speculation. Whether it's the price point or location in the store, supermarkets are designed in ways to stimulate our senses to increase sales, which may not only have implications on our pockets, but on our health too, owing to the nutritional quality of the foods most often promoted to us.
When the price is right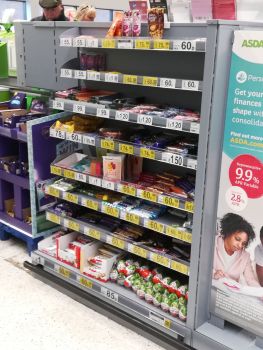 Reducing prices of healthy and nutritious food and offering good value for money may remove important barriers faced by many families. Therefore, at face value, promotions that are price sensitive (reduced price, buy one get one free, etc) may be a good thing for consumers. But what happens if such promotions are in the majority based on less healthy products?
Research has found that there is a promotional bias towards less healthy foods in supermarkets in the UK, particularly sugary drinks, salty snacks and fatty foods.5 Data from Which? found that 53% of all promotions involved less healthy foods, typically those high in fat, sugar and/or salt (HFSS), compared with 47% of healthier products.6 This is highly contradictory of the advice portrayed in the Eatwell Guide, whereby HFSS food and drink is recommended to be consumed 'less often and in small amounts'.
IT'S ALL IN THE LAYOUT
Picture yourself waiting in a queue at the checkout in your local supermarket, what can you see? The checkout areas are hotspots for sweets and chocolates that catch your attention – and more often children's. It is no surprise that one survey found 83% of parents had been pestered by their children to buy junk food at the checkouts and 75% had given into their children and purchased something due to being pestered.7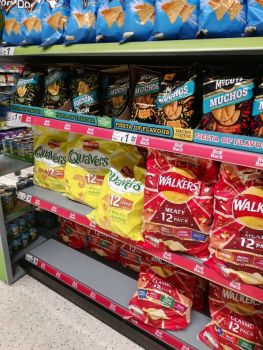 And that's because where products are placed in store has an impact on the likelihood of consumers purchasing them. Effective locations that positively impact sales include convenient, eye-catching locations such as checkout areas, shop entrances and aisle ends.8,9 A survey by the Obesity Health Alliance found that 43% of all food and drink products located in prominent areas, were for sugary foods and drinks – again, foods that we are recommended to consume 'less often and in small amounts'.10
A PARTING THOUGHT ON THE PANDEMIC
This blog discusses how the marketing strategy of supermarkets may indeed be playing a role in the nation's poor diet at present. Whilst some supermarkets have started to move away from multibuy promotions and introducing junk food-free checkout policies, we need a level playing field across all retailers to ensure the supermarket environment is fair and one that is consistent with and not in conflict with the Government's healthy eating guidance.
I want to close on a more pressing concerns facing supermarkets right now. The COVID-19 pandemic is having severe implications on access to healthy and nutritious food – not due to lack of food, but panic buying. It is resulting in our most vulnerable communities, who already experience health inequalities, finding it even more difficult to access food in general, let alone healthy and nutritious food. How can we support the vulnerable members of our community when there is no food to be had? The message we all need to get out there is "think twice before you buy twice".
Beth Molly Bradshaw ANutr
Food Active, Health Equalities Group
Beth is a Registered Associate Nutritionist with a passion for the wider determinants of health and campaigning for an environment more conducive to healthy lifestyles and behaviours. Beth has worked at Food Active, a healthy weight charity for over two years and volunteered for a further 18 months.
Twitter: @BMBradshaw95
Email: [email protected]
Photos: Beth Bradshaw, Feb2020.
References
[1] Office for National Statistics (2019). Family spending in the UK: April 2017 to March 2018 [online] Available at: www.ons.gov.uk/peoplepopulationandcommunity/personalandhouseholdfinances/expenditure/bulletins/familyspendingintheuk/financialyearending2018 [Accessed: 18th March 2020]
[2] Public Health England (2018). Childhood Obesity Plan: Chapter 2. London: HM Government
[3] Department for Health and Social Care (2019). Consultation to restricting promotions of less healthy food and drink by price and place [online] Available at: https://assets.publishing.service.gov.uk/government/uploads/system/uploads/attachment_data/file/770704/consultation-on-restricting-price-promotions-of-HFSS-products.pdf [Accessed: 23rd March 2020]
[4] Public Health England (2016). Sugar Reduction: The evidence for action. Annexe 4: An analysis of the role of price promotions on the household purchases of food and drinks high in sugar
[5] Economic and Social Research Council (2014). Evidence briefing: Food price promotions and public health [online] Available at: https://esrc.ukri.org/news-events-and-publications/evidence-briefings/food-price-promotions-and-public-health/
[6] Which? (2014). Half of supermarket promotions are on unhealthy food, says Which? https://inews.co.uk/news/health/supermarkets-discounts-unhealthy-food-obesity-which/[Accessed: 23rd March 2020]
[7] Children's Food Campaign (2014) Junk free checkouts [online] Available at: https://www.sustainweb.org/news/sep13_junkfreecheckouts/[Accessed: 23rd March 2020]
[8] Cohen D and Lesser L. Obesity prevention at the point of purchase. Obesity Reviews 2016. 17:389–396
[9] Thornton L, Cameron A, McNaughton S et al (2012). The availability of snack food displays that may trigger impulse purchases in Melbourne supermarkets. BMC Public Health. 12:194
[10] Obesity Health Alliance (2019). Out of Place: the extent of unhealthy foods in prime locations in the supermarket [online] Available at: http://obesityhealthalliance.org.uk/wp-content/uploads/2018/11/Out-of-Place-Obesity-Health-Alliance-2.pdf [Accessed: 20th March 2020]