Myself, Covid-19 & Nutrition
Posted on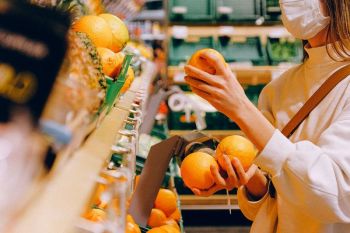 Covid-19 has had an enormous impact on our day-to-day life. Since the UK government announced an effective lockdown on the 23rd of March 2020, our lives have changed immensely. Here, Emma Berry explores how our eating habits, shopping and exercise routines have changed and what this might mean for the future.
Although many signs of a normal life are starting to return, such as businesses starting to reopen, being able to venture outside, and people meeting up with family and friends – it's likely that our old version of normal will not return for some time.
During this time, my family, friends and I have found our eating habits and the way we shop for food have changed. Anecdotally, we discussed:
Cooking more meals from scratch during lockdown;

Baking sweet treats more frequently than normal;

Taking a walk to drop off home-baked goods to family or friends who lived nearby.

Snacking much more than normal, often reaching for chocolate or sweet snack foods.

Going to the supermarket less and doing one larger shop a week instead

Finding ourselves actively trying to buy from local businesses when ordering in food, rather than using larger chain restaurants.
We also found ourselves unable to exercise in our normal ways. Others were unable to play team sports or attend classes. Before lockdown, I preferred to walk whenever possible, but not being able to go to the office or socialise made it harder. I also normally went to the gym as a way to reduce my anxiety levels but that has now been prevented due to Covid-19. Obviously, this combination of being unable to enjoy my normal forms of exercise, as well as eating more, higher stress levels and a lack of sleep, has resulted in my clothes becoming a bit tighter. I doubt I am alone in this situation and quite frankly, during a pandemic, there are more important things to worry about. However, as the easing of lockdown has started, I have found my daily steps starting to increase, I am sleeping better and snacking less. It made me curious as to what others, outside of my own social circle, are experiencing during lockdown and the research that has been carried out on this.
There has been some research published on nutrition during Covid-19 so far, which has been interesting. For example, Naja & Hamadeh (2020)1 discuss the multi-level factors that affect nutrition and food security during Covid-19 – from the individual to the global level. They also stress the relationships between these levels and provide a list of recommendations for each level to reduce the impact of the pandemic. One of the best-known nutritional impacts of Covid-19 is likely to be the recommendations on Vitamin D supplementation.2 As people are spending more time inside than normal, there is a chance of becoming Vitamin D deficient. There was also at some point suggestions that vitamin D supplements could reduce the risk of coronavirus, but there is not enough evidence to support this claim.3
Although these are only two examples of research on nutrition during Covid-19, I am certain that there will be a lot of more research currently taking place, as well as planned for the future, into the impact of Covid-19 on our eating habits, nutrition and wellbeing. Although this is an incredibly hard and stressful period for everyone, there are researchers who have made the most of this unique opportunity to capture data on this which may help to inform our knowledge in the future. I will be extremely interested to see the research that comes out about the pandemic and to read about the experiences of others during this strange time.
Emma Berry
Emma has an MSc i n Human Nutrition
and an interest in Public Health nutrition
and health promotion within the community.
References:
Naja, F., Hamadeh, R. (2020). Nutrition amid the COVID-19 pandemic: a multi-level framework for action. Eur J Clin Nutr . doi.org/10.1038/s41430-020-0634-3

NHS UK. (2020) Vitamin D: Coronavirus update. Available at: https://www.nhs.uk/conditions/vitamins-and-minerals/vitamin-d/. Accessed 14th July 2020.

Lanham-New SA, Webb AR, Cashman KD, et al. (2020). Vitamin D and SARS-CoV-2 virus/COVID-19 disease. BMJ Nutrition, Prevention & Health. doi:10.1136/bmjnph-2020-000089.