NHD Editor, Emma Coates, digs in to give us a pre-Christmas taste of turkey! Over the next week or so, many of you who will be tucking into some delicious festive fayre with family and/or friends. Christmas may have been downscaled or even cancelled for some this year due to the nation's pandemic restrictions, but many of us will still chose turkey for our festive table.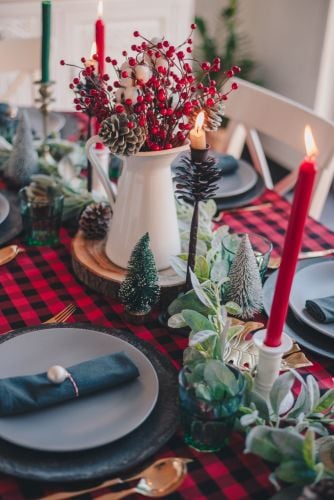 I can guess that there will be plenty of you who've chosen turkey as the centrepiece to your Christmas table this year. Whilst some relish the idea of chowing down on slices of succulent and tasty turkey, others dread the experience of bland, dry meat. Love it or hate it, since the 1950s turkey has been the meat of choice for Britons at Christmas time. Prior to that, the most common meat chosen for Christmas dinner would have been goose, beef or even rabbit.
THESE BIRDS HAVE A RICH HISTORY
Scrolling back into history, Britons wouldn't have known what a turkey was until the 1520s. It's believed that William Strickland was the man who brough turkeys into the UK following his voyage to America in 1526. An English landowner based in East Yorkshire, Strickland returned from his travels with the birds and sold them for tuppence each at a Bristol market.
Prior to their arrival at that time, only the rich would have had the means to buy decent meat to celebrate yuletide. Their Christmas feasting tables would have seen either a boar's head or a pheasant. Royal tables may have seen those too, as well as peacock and/or swan. It is said that Henry VIII was the first to eat turkey on Christmas day. However, it may well have been included as a pie filling rather than a complete bird as a centrepiece.
Moving into the 1600s and the meat starts to feature in recipes outside of Christmas. Turkey now seems to be a little less exclusive, featuring in the diet for the gentry and very wealthy, not just the Royal household.
Prior to the 1950s turkey was broadly inaccessible for many working class families. Despite it being very popular in the Victorian era, it would have been rather costly to buy, featuring only on the most affluent of tables.
In 1843, Charles Dickens book, A Christmas Carol, was published and, famously, Scrooge sends Bob Cratchit off to find the biggest turkey around to replace his goose. This really would have been a step up for many poorer families during that time, so it's no wonder there was such excitement in the Cratchit house!
Even in to the 1930s the average worker would have had to spend up to a week's wages to grace their table with a turkey on Christmas Day.
SO WHY DID TURKEY TAKE OFF?
Advances in transportation and refrigeration of food in the post-second world war era made a huge difference to the accessibility of not only turkey but many other foods too.
As food production has developed over the last century, turkey can be enjoyed by most people, with a small bird costing the equivalent of a few hours work, rather than a week's wages!
These days, more than 10 million turkeys are eaten in the UK every year. The birds are a preferable choice for feasting, as they offer a good amount of meat and trimmings to feed larger parties of people – particularly useful over the festive period!
Despite it being the most common choice of meat for Christmas dinner, there are some other countries around the world that share this tradition too. The USA, Canada, Australia and New Zealand. Also, many south and central American nations enjoy turkey as part of their Christmas meal. However, across the rest of Europe it is rarely eaten at Christmas.
WHAT'S IN IT FOR EVERYONE?
Nutritionally, turkey offers good quality protein; but depending on the cut, the nutritional content varies. Turkey also offers a good source of vitamin B3, B6 and B12 plus selenium.
Table 1: Average nutritional content per 100g roasted turkey1
| | | |
| --- | --- | --- |
| Energy | kcal | 190 |
| | kJ | 799 |
| Protein | g | 30.9 |
| Fat | g | 7.4 |
| Of which saturates | g | 2.30 |
| Carbohydrate | g | 0 |
HOW TO MAKE THE BEST OF YOUR TURKEY AT CHRISTMAS?
There's always someone you know who has a hint or tips to ensure your roast turkey is the best you've ever cooked. Let's face it, no one wants dry meat for their Christmas dinner.
Fear not! Some of the nation's favourite chefs can offer a wealth of advice on this topic. Here are just a few to avoid any dreaded dry turkey nightmares:
Nigella Lawson – She recommends brining your meat before roasting.2 What is brining? Submerging meat in salty water. This helps to prevent water being lost from the meat during cooking. It also means the meat absorbs water when it's submerged, which it holds onto during the cooking process.
Gordon Ramsey – Whole turkeys and turkey crowns can dry out easily, but Gordon highly recommends adding a herb butter, which helps to keeps it beautifully moist, and we shouldn't be tempted to skip this step. Visit the BBC food website to find Gordon's recipe for his herb butter.3
The Hairy Bikers – Your choice of stuffing can help to keep your meat moist during the roasting process. Making your own stuffing and including fruit is a tasty way to try this out. Their chestnut stuffing with pears and apricots could be a winner here. Visit the BBC food website for this recipe.4
Jamie Oliver – Resting your meat before carving is vital and advises that a turkey needs to be rested for at least an hour and a half after it comes out of the oven. Jamie calls this the 'golden hour' as it allows the juices within the meat to settle and guarantees succulence.5
So, there we have it, all sorts of facts, hints and tips about turkeys. No doubt the debate about the best way to bast and roast them will continue as long as they are the main choice of meat for Christmas dinner. However, inventive ways to use the leftovers will grow ever more too!
As this is the final blog from NHD before Christmas, I'd like to wish you all a very Merry Christmas and a healthy, happy new year.
Very best wishes - Emma
References
Photo by Libby Penner on Unsplash
1. https://www.gov.uk/government/publications/composition-of-foods-integrated-dataset-cofid
2. https://www.nigella.com/
3. https://www.bbc.co.uk/food/recipes/roastturkeyandstuffi_71053
4. https://www.bbc.co.uk/food/recipes/turkey_crown_and_legs_32901
5. https://www.jamieoliver.com/