FOOD BANKS AND COVID-19: IS FOOD ALWAYS THE ANSWER
Posted on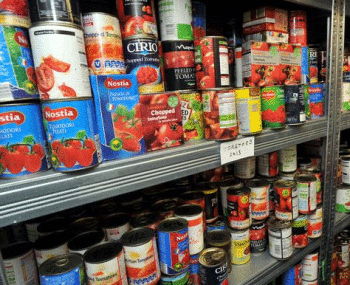 With nearly five million experiencing food insecurity since the start of the COVID-19 pandemic, it is not surprising that the demand on UK-based food banks has drastically risen. But what needs to change to help ensure no one faces food poverty in the future? NHS Community Dietitian, Alex Ballard, investigates.
As a student dietitian I spent my holidays volunteering at a local food bank. Although initially seeking out a CV enhancing opportunity, I quickly realised that this time would help shape me as a healthcare professional. This valuable experience has had a significant impact on how I now practice and my awareness of food poverty across the UK.
Through the links that I created, I was fortunate enough to do my final year University dissertation project looking into the main reasons why individuals' were accessing foodbanks at that time. To date, similar causes force many to seek emergency food supplies. For example, low income, benefit delays, benefit changes, debt, homelessness, ill health, domestic abuse, lack of child holiday meals and delayed wages.1
Therefore, when headlines hit about large-scale furlough, job losses and financial instability, as a result of the COVID-19 pandemic, I instantly dreaded what this would mean for the food security of many households.
WHAT IS THE TRUE SCALE OF THE PROBLEM?
The Trussell Trust is a community-based project that supplies non-perishable food donations to 1200 food banks throughout the UK, whilst also striving for a poverty free future. They provide a minimum of three days emergency food to individuals facing a crisis.2
Statistics from The Trussell Trust demonstrate that the need for food donations has sharply risen during lockdown. However, this will be underestimating the full scale of this issue, as there are many other forms of emergency food supply that are outside of The Trussell Trust network,1 such as independent food banks and hot food kitchens.
Is continuously increasing the availability of food donations the true answer here? As a dietitian, it is difficult to consider that food may not be the full solution. But without significant government driven, policy-based changes it seems unlikely that many of the underlying issues will be fully resolved.
COVID-19 AND FOOD BANKS
Food parcels
Year upon year, the Trussell Trust has unfortunately seen a progressive increase in the need for food box donations.
The number of three-day emergency food parcels rose from 492,641 in 2014, to 519,342 in 2016 and then to 658,048 by in 2018.1
Between 2018 and 2019 there was an even steeper increase in food parcels from 658,048 to 823,145.1 Additionally, in this time period, there was a 20% increase in the amount of emergency food supplies going to children during the holiday period.3
In the first two weeks alone of the UK lockdown, Trussell Trust food banks distributed a shocking 6250 emergency food parcels every single day, with 3000 of them being provided to children.4
Throughout April, 2020, there was an 89% increase in the need for emergency food parcels in comparison to April 2019, which included a 107% rise in the parcels given to children. Overall, the number of families with children receiving food parcels has almost doubled in comparison to this time last year.5
As previously mentioned, The Trussell Trust is not the only provider of emergency food supplies in the UK and, therefore, these figure still do not fully depict the issue. Independent food banks have also reported a 175% increase in need during the pandemic so far.5
FareShare, a network of food redistributors who turn surplus food into meals, is now working with 25% more organisations to provide meals and food parcels than it did before lockdown. It is also delivering 30% more food and creating over a million meals per week. FareShare estimates that organisations supporting vulnerable families will need at least 40% more food over this summer holiday in comparison to pre-crisis levels.6
STAFFING AND RESOURCES
As well as the steep increase in food parcels; the demand on food bank staff, volunteers and resources has also been extreme.
The food banks have needed more hands than ever to organise food donations, package parcels, check stock levels, signpost service users, log statistics and complete administrative tasks. Additionally, The Trussell Trust needed to quickly launch a new e-referral system and reorganise the food bank layout to help ensure social distancing polices were being safely enforced.7
Despite this, food banks have also had many members of their team needing to self-isolate due to their own COVID-19-related symptoms, or because of age, medical conditions or to shield family members.7
Lockdown also resulted in wide scale panic-buying, supermarket clear outs and stock shortages. Many were preoccupied with filling up their own cupboards in preparation for isolation and, therefore, in some instances, were less likely to make food donations. Some food banks were forced to close, reduce parcel sizes or limit choices due to a significant lack of food donations during this time.8
Luckily, many organisations have collaborated to ensure that those in need are still provided with emergency food. For example, Sainsbury's, The Entertainer, Palletforce, XPO Logistics and British Gas mhave joined forces to help provide and distribute food.9
WHAT NEEDS TO HAPPEN NEXT?
UK Government
The Trussell Trust makes it clear that it does not feel emergency food parcels are the longer-term solution to poverty. Although nourishment is such an important element to staying alive and healthy; it does not cover other necessities, such as rent, water, electricity or period products. Instead, The Trussell Trust works hard to help abolish the need for food banks entirely through fighting for policy-based changes.
Although the Government have increased Universal Credit and housing benefits during the pandemic, this unfortunately will not be enough for everyone. New research by the Joseph Rowntree Foundation and Save the Children reveals that nearly two thirds of families on Universal Credit are borrowing money to stay afloat during the COVID-19 emergency.10
For too many and for too long, benefit payments have not adequately covered the rising costs of living. Research has shown that households referred to food banks are left with only £50 per week after housing costs.11 Unfortunately, these figures were before the rise in unemployment and, therefore, this weekly budget is likely to have decreased further.
Groups at high risk of food poverty include individuals with disabilities (accounting for approximately 50% of all food bank referrals) and black, Asian and minority ethnic groups.12 As COVID-19 has disproportionately affected those from ethic minorities, and as individuals with disabilities are more likely to be shielding, these groups could be being affected more than ever.
The Trussell Trust has been collaborating with other anti-poverty charities to encourage a Coronavirus Emergency Income Support Scheme that lifts benefit caps, increases benefit payments and extends the suspension of benefit deductions.11 A crucial component to this proposed emergency response it to boost local welfare assistance schemes ran by local councils.13
After this effort, it was heartening to hear that the Prime Minister acted and announced a new £63 million fund for these schemes. Despite this, it does need to be assessed how far £63 million will stretch when other UK nations have comparable schemes with an annual cost of £250 million. With monitoring, it is important that this money is topped up to keep English councils in line with others across the UK.13
The Malnutrition Awareness and Prevention Network (MAPN) have also issued a call for action to help ensure that the most vulnerable groups in society have continued access to food provisions even after the initial peak. This decision was taken following reports that nearly five million adults are experiencing food insecurity since the beginning of the pandemic.14 MAPN are calling for local authorities to a have additional funding for continuing food provisions, sufficient funding for NHS dietetic and third sector nutrition and food services, a campaign focusing on the importance of adequate nutrition for at risk groups and prioritisation of nutrition in NHS rehab pathways.
The President of the British Dietetic Association (BDA) has also addressed the UK government to ask that clear food strategies are in place to prevent Brexit exacerbating food insecurity further.15
SO HOW CAN WE, AS HEALTHCARE PROFESSIONALS, HELP?
The obvious ways to directly help foodbanks is to donate, whether via food, money or time. Dietetic departments could set up an area for staff to donate non-perishable items and healthcare professionals can raise money for the Trussell Trust or similar organisations. Dietitians could also volunteer time to local food banks on days off or at weekends; which could involve workshops, such as healthy eating on a budget, or basic cooking skills. Additionally, Universities could encourage student dietitians to volunteer as part of their training.
Healthcare professionals could also use their professional voice to help raise awareness of food insecurity. Time could be dedicated to discuss this topic in department meetings, for CPD and circulating information via emails. Additionally, social media could be used to highlight issues, solutions and current campaigns.
As healthcare professionals have access to vulnerable individuals, it may also be beneficial for someone in each department to be able to give out food bank vouchers for those in need. To set this up, please liaise directly with The Trussell Trust. Part of this role may also be signposting individuals to other services, such as Citizen's Advice.
Providing individualised advice about obtaining a healthy diet on a restricted budget is also vital. This could involve tips around food organisation, reducing food waste and cheaper options, such as frozen, tinned and seasonal produce. The BDA 'Eat well, spend less guide' may be helpful resource.16 However, it is also essential that dietitians are able to tailor this advice to suit different cultural and religious diets.
Finally, start or get involved with campaigns and petitions for change, as action will hopefully help reduce the need for the above advice in the future.
CONCLUSION
The need for emergency food supplies in the UK has been progressively increasing year upon year. However, the COVID-19 pandemic has caused even greater rises at a rapid rate. Food banks have been stretched more than ever, as this has also come at a time when volunteers, donations and other resources are limited.
Many organisations have been collaborating to help ensure the most vulnerable still have access to food. Additionally, multiple anti-poverty charities based in the UK, the MAPN and the BDA are calling out for policy based changes.
Health are professionals can help to back these movements by supporting petitions and campaigns. Additionally, they can donate time, money and support to charities providing emergency food supplies and raise the awareness via their professional voices. Additionally, Trusts can ensure they have colleagues able to provide food bank vouchers and universities can encourage students to volunteer. It is also essential that dietitians are able to adapt healthy eating advice to suit an individual's financial situation and for different cultural and religious diets.
Alex Ballard NHS Band 6 Community Dietitian
Outside of work, Alex is active on social media (@alextalksdiet) and her keen interests include health writing, cooking, exercise and the environment.
Instagram: @alextalksdiet
The Trussell Trust (2020) Mid-year stats. Accessed online: www.trusselltrust.org/news-and-blog/latest-stats/mid-year-stats/ (June 2020)

The Trussell Trust (2020) What we do. Accessed online: www.trusselltrust.org/what-we-do/how-foodbanks-work/ (June 2020)

The Trussell Trust (2020) UK food banks fear busiest summer ever ahead. Access online: https://www.trusselltrust.org/2019/07/16/uk-food-banks-fear-busiest-summer-ever-ahead/ (June 2020)

The Trussell Trust (2020) Thank you to all our amazing volunteers. Access online: www.trusselltrust.org/2020/06/01/thank-amazing-volunteers/ (June 2020)

The Trussell Trust (2020) Food banks busiest month. Accessed online: www.trusselltrust.org/2020/06/03/food-banks-busiest-month/ (June 2020)

FareShare (2020) More children than even could go hungry over summer, UK's largest food charity warns. Accessed online: www.fareshare.org.uk/news-media/press-releases/more-children-than-ever-could-go-hungry-over-summer-uks-largest-food-charity-warns/ (June 2020)

The Trussell Trust (2020) On the front line. Accessed online: www.trusselltrust.org/2020/06/19/frontline-covid-19/ (June 2020)

Independent (2020) Coronavirus: UK food banks running out of supplies as people stockpile and donations fall. Accessed online: www.independent.co.uk/news/uk/home-news/coronavirus-food-bank-stockpile-panic-buying-donations-uk-cases-outbreak-a9393201.html (June 2020)

The Trussell Trust (2020) Organisations unit to get food to those most in need. Accessed on line: www.trusselltrust.org/category/news/ (June 2020)

Joseph Rowntree Foundation (2020) Nearly two thirds of families on universal credit forces into lockdown debt nightmare. Accessed online: www.jrf.org.uk/press/nearly-two-thirds-families-universal-credit-forced-lockdown-debt-%E2%80%98nightmare%E2%80%99 (June 2020)

The Trussell Trust (2020) Our nation faces a crucial fork in the road. Accessed online: www.trusselltrust.org/2020/06/16/right-path/ (June 2020)

Sustain (2020) What is food poverty? Who is most at risk? Accessed online: www.sustainweb.org/foodpoverty/whatisfoodpoverty/ (June 2020)

The Trussell Trust (2020) Make this 363 million the lifeline it needs to be. Accessed online: www.trusselltrust.org/2020/06/12/lifeline/ (June 2020)

Food Foundation (2020) New food foundation survey. Accessed online: www.foodfoundation.org.uk/new-food-foundation-survey-five-million-people-living-in-households-with-children-have-experienced-food-insecurity-since-lockdown-started/ (June 2020)

British Dietetic Association (2020) British Dietetic Association President Giles Yeo calls for urgent reassurances over Brexit and food insecurity. Accessed online: www.bda.uk.com/resource/british-dietetic-association-president-giles-yeo-calls-for-urgent-reassurances-over-brexit-and-food-insecurity.html (June 2020)

British Dietetic Association (2019).Food Fact Sheet: Eat well, spend less. Accessed online: www.bda.uk.com/uploads/assets/79f95550-641b-4523-8332b11175ddbf9e/Eat-well-Spend-less2019-food-fact-sheet.pdf (June 2020)