BNF HEALTHY EATING WEEK - MAKING HEALTHIER CHOICES: THE BENEFITS OF NATIVE HEBRIDEAN SALMON
Posted on
BNF Healthy Eating Week is this week, 14 to 18 June, and the message is: "Find your healthier you." Making healthier choices and knowing the facts about what we are eating are part of the themes running across the week and with that in mind, Carrie Ruxton and Madi Myers examine the health benefits of eating fish, specifically salmon. Recent findings claim that a unique strain of Hebridean farmed salmon contains more of everything. This Blog examines the report and shares its findings.
During this year's Healthy Eating Week, the BNF is asking everyone to reflect on their lifestyles and look to make improvements to enhance their health and wellbeing.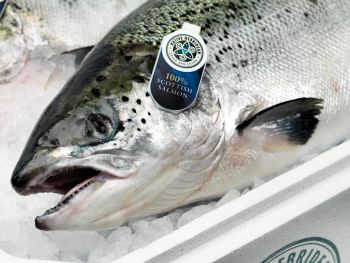 We all know about the health benefits of eating fish, particularly salmon, which contains important omega-3s, proteins, vitamins and minerals. In this NHD Blog, results will be presented from the latest nutritional analysis of Native Hebridean Salmon, a unique strain of farmed salmon, descending from wild stock from North Uist in Scotland and farmed exclusively in the Hebrides. We will put this analysis into context with potential health benefits based on authorised claims. The role of salmon in helping people to achieve nutritional recommendations will also be explored.
The Native Hebridean broodstock programme has been in development for more than a decade, providing employment and opportunities for rural communities in Scotland.1
NUTRITIONAL COMPOSITION
Samples of Native Hebridean Salmon were analysed by an independent, certified laboratory during 2020.2 The results, when compared with other salmon types, raise three key points (see also Table 1):
Native Hebridean Salmon contains nearly two and a half times more vitamin D than that seen in regular farmed salmon.

It contains more of the very long-chain omega-3 fatty acids (DHA + EPA) than examples of white fish, poultry or meat.

The protein and selenium content of Native Hebridean Salmon may be higher than that seen in regular farmed salmon and appears closer to a comparison with wild salmon.
Table 1: Nutritional composition of salmon per 100g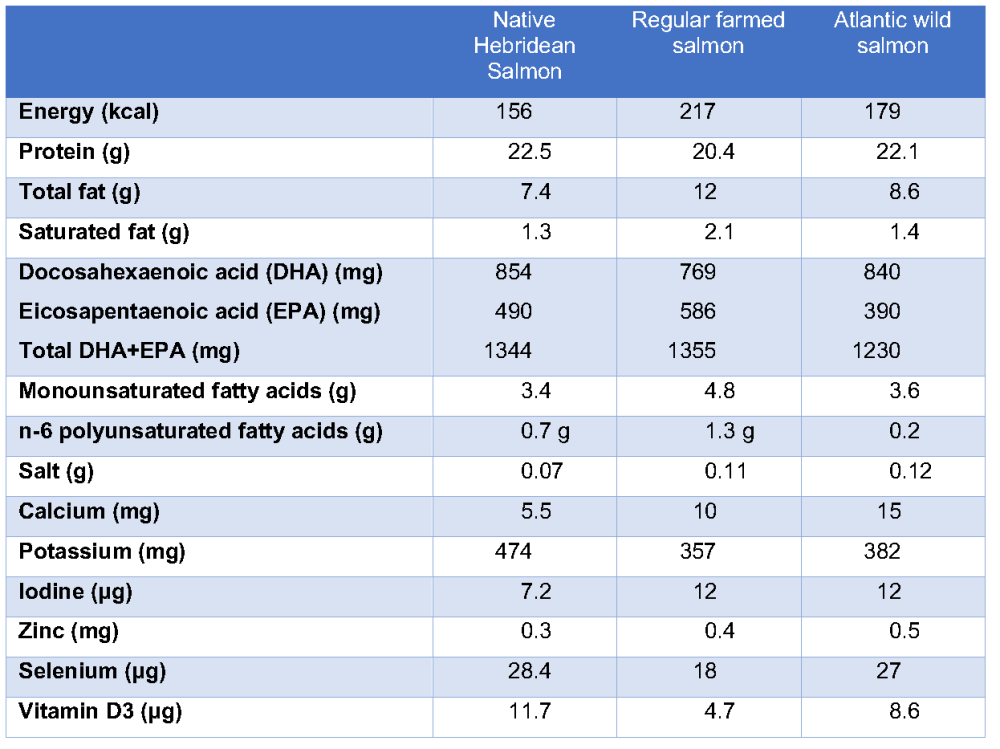 Source: 2020 analysis of Native Hebridean Salmon compared with regular farmed and Atlantic wild salmon (McCance & Widdowson's composition of food; n-3 data by kind permission of Dr Matthew Sprague, University of Stirling).
UK consumers are advised to eat two weekly servings of fish; one of which should be oily.3 For adults and older children, 140g is the suggested serving size. Figure 1 presents the contribution of a serving of Native Hebridean Salmon to the recommendations for a typical adult, based on Reference Intakes and Nutrient Reference Values (NRV) for all values except vitamin D and EPA/DHA to which UK recommendations are applied (i.e. 10μg for vitamin D and 450mg for EPA/DHA).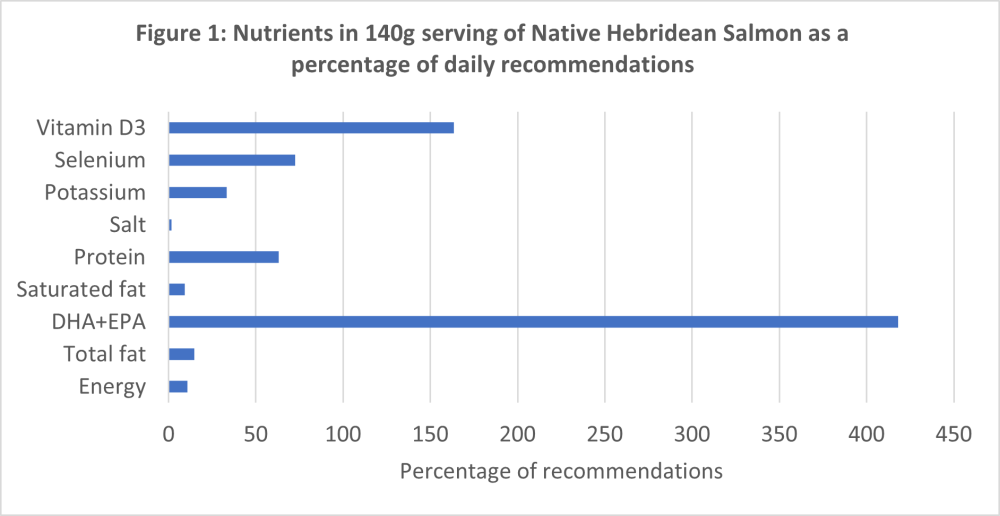 The findings reveal that a serving of Native Hebridean Salmon provides relatively modest amounts of energy (11%), total fat (15%) and saturated fat (9%) as well as a negligible 1% of the maximum salt target. In contrast, 63% of the Reference Intake for protein is provided by a serving of Native Hebridean Salmon. The protein in fish and seafood is acknowledged to be high biological value, meaning it contains all of the nine essential amino acids required by humans.
Turning to DHA and EPA, one 140g serving of Native Hebridean Salmon in this latest analysis provides four times the daily amount recommended by the Scientific Advisory Committee on Nutrition (i.e. 1882mg vs 450mg).2 For vitamin D, 163% of the UK recommendation is provided by one serving (16μg vs. 10μg), while also delivering 33% of the NRV for potassium (664mg vs 2000 mg) and 72% of the NRV for selenium (40μg vs 55μg).
At present, oily fish consumption is too low in the UK, with the latest National Diet and Nutrition Survey revealing an average weekly intake of 56g in adults aged 19 to 64 years and just 20g in children.4 Yet, oily fish is a nutritious main meal option as summarised in Table 2, which compares 100g of Native Hebridean Salmon with other popular protein-rich foods.
In comparison with other meal options (Table 2), protein levels are similar, except for haddock and eggs which have slightly lower amounts per 100g. Selenium levels are high in the fish and egg options, especially for canned tuna. Native Hebridean Salmon contains the greatest amount of EPA+DHA and potassium compared with the other options. Vitamin D content is also more than three times higher compared with eggs, and 10 times higher compared with the meat options.
Table 2. Comparison of Native Hebridean Salmon with other main meal options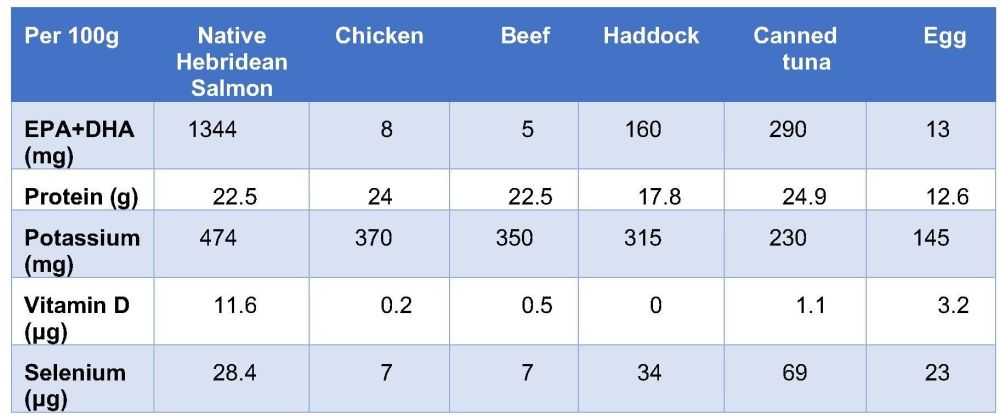 POTENTIAL HEALTH BENEFITS
Specific benefits, mostly relating to support of normal health and functionality, have been authorised by the European Commission for several of the nutrients found in salmon, including Native Hebridean Salmon. Following BREXIT, these health claims were incorporated into UK law and will, henceforth, come under the Department of Health and Social Care.5
Vitamin D
Vitamin D supports normal bones and teeth, normal immune function (in adults and children), muscle function and growth/development of bone in children. One serving (140g) of Native Hebridean Salmon provides a substantial source of vitamin D – equating to more than 1½ times the daily recommendation. This is potentially significant as mean vitamin D intakes in the UK are just 2-3μg per day, while around a fifth of adults and teenagers have serum 25-hydroxyvitamin D levels below the minimum cut-off of 25 nmol/litre,6 putting them at risk of sub-optimal bone mineral mass and related conditions. More recently, vitamin D inadequacy has been linked with a greater risk of respiratory infections; an area of evidence being kept under review by government.7
Selenium
A serving of Native Hebridean Salmon is also a rich source of selenium which supports normal immune function, as well as being an antioxidant, and important for normal fertility, healthy hair/nails and thyroid function.
Potassium
Potassium is well known for its beneficial effects on blood pressure, although it is also important for muscle function and the nervous system. Since hypertension affects 1 in 4 adults in the UK and is a major risk factor for cardiovascular disease, increased potassium intakes and reduced sodium intakes would be beneficial. Therefore, it is notable that a serving of Native Hebridean Salmon provides 33% of the NRV for potassium yet only 1% of the daily salt limit.
Omega-3s
Intakes of long-chain omega-3 fats in the UK are currently low as a consequence of the steady decline in oily fish consumption. Estimates based on the National Diet and Nutrition Survey reveal that the average intake in adults is less than half of the recommended 450 mg EPA+DHA per day.8 However, in just one serving of Native Hebridean Salmon, according to this latest analysis, four times this amount can be provided. The authorised health claims for EPA and DHA are broad highlighting their importance for vision, heart function and, when consumed by pregnant women, the proper development of the foetus and breastfed infants.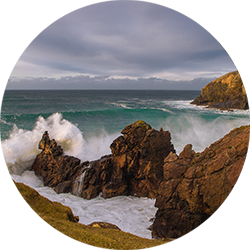 SUSTAINABILITY
Reared in its natural environment and fully traceable to the Hebrides, Native Hebridean Salmon contributes to protecting Hebridean provenance. The project also meets sustainability objectives by creating and retaining value locally in remote and rural communities, some of which are classified by Highlands and Islands Enterprise as 'fragile'. Native Hebridean Salmon is the result of a 10-year broodstock programme, involving significant research and development investment, creating speciality skilled, long term employment in the Hebrides.
Native Hebridean Salmon is reared to Best Aquaculture Practices (BAP) certification. Considered to be the world's most comprehensive third-party aquaculture certification programme, BAP covers the entire value chain and is recognised by both the Global Food Safety Initiative and the Global Sustainable Seafood Initiative.
BAP's standards are built on the four pillars of sustainability with traceability as the foundation:
Environmental Responsibility – compliance with standards that address such issues as habitat conservation, water quality and effluents.

Animal Health & Welfare – best practices in animal husbandry, addressing issues such as disease control.

Social Accountability – ensuring producers are following best practices in human rights, labour laws, and employee health and safety.

Food Safety – assurance that no banned antibiotics or other chemicals are used, and that all approved chemical treatments are carried out in a responsible fashion.
CONCLUSION
Native Hebridean Salmon provides advantages in terms of higher vitamin D, omega-3 fatty acids, and potassium compared with other main meal options. It also offers additional choice for consumers wishing to increase oily fish consumption in line with official recommendations. The nutrients found in salmon have specific health benefits linked with bone health, muscle function, immune function and support for normal blood pressure and antioxidant status.
Uptake of vitamin D supplementation remains stubbornly low across the UK, suggesting that food sources will be increasingly relied upon to deliver a source of vitamin D. A 2020 Scottish poll found that 58% of Scots never take a supplement,9 while the 2019 National Diet and Nutrition Survey revealed that more than 90% of teenagers and 70% of adults aged 19-64 years do not take regular vitamin D supplements. In conclusion, this analysis of Native Hebridean Salmon provides additional support for healthcare professionals providing dietary advice to the public.
BNF HEALTHY EATING WEEK 14-18 JUNE 2021
The 'Find your healthier you' message will be supported by five themes across the week: 
Know the facts – information, advice and myth busting.

Make a healthier choice – tips and tools to make better choices;  

Plan for success – ways to plan healthier meals and menus; 

Be the chef – how to cook healthier options, with links to recipes and ideas.  

Keep moving – promoting the importance of being active for health.  
More at: www.healthyeatingweek.org.uk
Dr Carrie Ruxton, RD (www.nutrition-communications.co.uk)
Madi Myers, ANutr (www.nondietnutrition.co.uk)
Acknowledgement
Dr Ruxton received funding from Scottish Salmon (www.scottishsalmon.com)
to write this article. The independent opinions expressed are those of
the author and do not represent any organisation with which the author is affiliated.
References
UKAS accredited laboratory, Ashwood UK Ltd., Galashiels, UK, which is a Eurofins Company.

Scientific Advisory Committee on Nutrition & Committee on Toxicity (2004) https://assets.publishing.service.gov.uk/government/uploads/system/uploads/attachment_data/file/338801/SACN_Advice_on_Fish_Consumption.pdf
National Diet and Nutrition Survey years 9-11. Available at: https://www.gov.uk/government/statistics/ndns-results-from-years-9-to-11-2016-to-2017-and-2018-to-2019
National Diet and Nutrition Survey Collection. Available at: https://www.gov.uk/government/collections/national-diet-and-nutrition-survey
Scientific Advisory Committee on Nutrition (2020) Rapid review https://www.gov.uk/government/publications/sacn-rapid-review-vitamin-d-and-acute-respiratory-tract-infections

Ruxton, C (2012) Omega-3 fatty acids and health. NHD 78: 13-14.

Food Standards Scotland (2020) https://www.foodstandards.gov.scot/publications-and-research/publications/vitamin-d-omnibus-survey